By painting the walls a pale green, we not only accentuate the cathedral ceiling, but also bring the outside in. Replacing the neutral off-white carpeting with Brazilian cherry hardwoods grounds the room even more. Staging the room by placing the sofa on the wall as you enter, opens the entire living area and allows the placement of a game table in a previously unused corner of the room.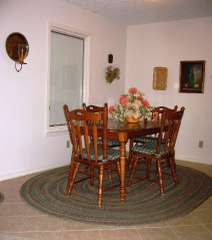 The diningroom benefits even more from the green paint. It hilights the white wood trim around the windows and draws the beauty of the outside in. The darker dining set provides a nice contrast with the paint. Simple decorating with the pot holder is less distracting to the buyer's eye than multiple small pictures.
The master bedroom also benefits from the green paint...it is a very relaxing color. Staging with a bed that has both a head and foot board introduces pleasing contrast. Blue linens are a soft touch and introduces another color to the room's palette.
In a small house, one color helps unify the house and keeps it from feeling chopped up.